Great View Condos in Pedregal Hills Above Cabo San Lucas with Marina, Bay and City Views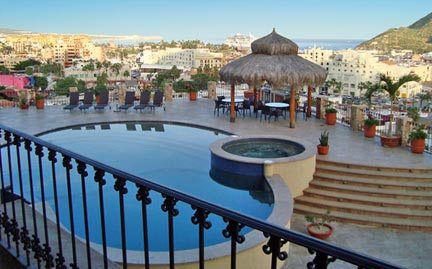 Premier Location With Onsite Concierge and Rental Office


Cabo Viejo rests on the hillside of Pedregal, just above town and within easy walking distance to the marina, restaurants, shops and clubs. As an owner (or owner guest for those renting units) you'll enjoy the added convenience of an on-site concierge that can assist you in planning events or scheduling activities and tours. The concierge can even arrange pre-stocking with food and beverages so that you need not waste any of your valuable vacation time grocery shopping. Private chef service, massage or other personal services can also be arranged by the concierge.

In addition, a rental management team makes it easy for owners to offset their investment expense by renting their condo whenever they're not using it themselves. The low density, high quality construction and sought after location in the private Pedregal residential community assures safety and security just minutes away from the action that is Cabo San Lucas. That in itself makes these very desirable vacation rentals. Add in the quality of the units, their expansive views and close proximity to all that Cabo offers and the potential return on investment is outstanding.





The condos at Cabo Viejo feature spacious floorplans with 2 bedroom, 2.5 bath units up to 3 bedroom, 3.5 bath units to choose from.

FEATURES INCLUDE:
• Spacious units (up to 3,100 sq feet) with ocean view
• Large ocean view terrace with plunge pools on all units
(pre-plumbed to allow for easy conversion to a hot-tub/jacuzzi)
• High ceilings
• Marble & granite counter tops
• Travertine floors
• Beautiful Mexican iron railings on terraces
• GE Profile series high-end appliances
• Gas range
• Oven
• Microwave
• Wine refrigerator
• Full size washer and dryer
• Refrigerator
• Underground parking
• Elevator access
• Private members only access to gated village in the Pedregal community.
• Recreational area including palapa, pool, Jacuzzi.
• Private Fitness Center

To learn more or to schedule a viewing, contact Don Weis.

An Added Bonus: Access to Pedregal Beach & Tennis Club
We mentioned earlier that condo owners at Cabo Viejo enjoy access to a private beach within the boundaries of the Pedregal community. Not only is this a private beach, but it's one of the best spots in Los Cabos to enjoy a day of sunshine or take in spectacular sunsets, year-round! At the head of the beach is a pristine grove of native palms that creates a lush and shady sanctuary. For those that enjoy surf fishing, you'll be glad to know that this stretch of beach provides excellent shore casting for roosterfish, dorado, sierra... even the occasional tuna! Whale watching is another great way to spend time here as the whales often come within a few hundred feet of shore!

In addition, as an owner you'll have full access to the Pedregal Tennis Club with night-lit courts and clubhouse/restaurant complex. Wake up to a game of tennis then spend the day basking in the sun at Pedregal Beach.... it doesn't get better than this!